Welcome back to my Internet Site!
On this page, in the left frame, you can find the links to all the series of pictures I uploaded recently, here below you can see a preview of my MobLog, click on one of the pictures, if you would like to see more!
Otherwise, Click here to send me your comments and/or suggestions! We would like to remember our beloved hamster Panty who unfortunately left us, in february 2004, after 2 years and 4 months spent together with us.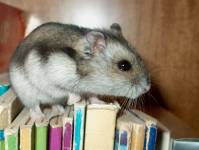 Goodbye, Panty, you'll stay forever in our hearts!!!